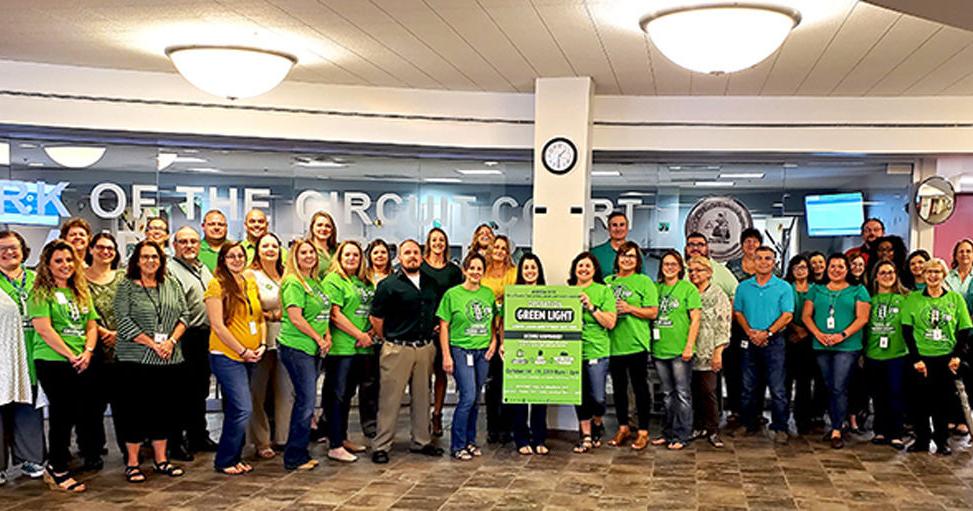 Denim Days: The Clerk's Office Gets Cozy and Raises Funds | Way of life
Would you pay a lot to wear blue jeans to work? The 103 staff members of the Citrus County Clerk's Office do.
They contribute $1 a week not only to be comfortable at work on Fridays, but also to raise funds for local charities.
In 2021, staff raised $4,465 for the privilege of participating in their office's Friday Denim Days, which donated money to 12 area nonprofit groups.
Circuit Court Clerk and Comptroller Angela Vick explained that in 2014, her employees wanted to have one day a week when they could dress a little more casually than usual.
But as Vick explained, "I'm very committed to a professional dress standard. We have to have respect for the people we see and we have to inspire confidence in people."
So Chief of Staff Traci Phillips and other staff kept busy.
"We wanted to do a jeans day. But we are a government entity, here to serve the public," Phillips said.
Some staff members thought about it and decided that they could make a contribution to charity every time they wore jeans.
"We made a presentation to the clerk," Phillips said. "We came to the meeting in jeans and nice shirts or clerk shirts."
According to Phillips, "Angela's goal is to get involved in the community and encourage staff to do so."
Employees did not specify who they would give the money to, but said they would pay $1 each time they wore jeans.
"She (Angela) loved the idea," Phillips said. "We asked all the employees.
Vick said she heard about another clerk's office that allowed staff to donate to charity to wear denim and "I stole the idea…"
Today, there is 100% participation in the program. Staff authorize payroll deductions to participate. Their contributions amount to between $300 and $400 per month. Sometimes they also make contributions to charities that ask for additional help.
For example, Vick said that every year the Citrus County Education Foundation sends her office a list of needed school supplies and employees go out to buy paper, tape, glue and other items.
In 2021, Citrus County Blessings, the nonprofit group that provides groceries to college students, contacted Vick and said he was low on peanut butter and jelly. The clerk's staff collected more than 200 pounds of peanut butter, Vick said.
Each summer, staff members compile a list of 12 charities – one per month – for the coming year. New ones are proposed, and certain groups can leave the list. Then, the staff members present the list to Vick.
Tammi Hunnicutt, Vick's executive assistant, said Vick reviews proposed organizations and what they do and when they are needed most, then consults a timeline.
"We make sure to donate at a time that makes sense," Hunnicutt said.
For example, she said, "We don't want to give something like Cayla's Coats in December or January when people need coats. We thought about it. It makes more sense to donate in August or September for something like this. »
Phillips suggested that in addition to wanting to wear jeans and wanting to help the community, some employees may feel particularly drawn to the idea of ​​helping out because "some of our employees may have been place of these others and have benefited from these groups".
In 2021, the groups receiving funds from Clerk's employees were:
January, mission to the Citrus County Homeless Shelter; February, Phil Royal Legacy; March, Citrus Cinderellas: April, PACE Center for Girls; May, Jessie's Place/Citrus County Children's Advocacy Center; June, Dementia Education, Inc.; July School Supplies, Blessings and Citrus County Education Foundation; August, the path rescue mission; September, Coats of Cayla; October, Citrus United Basket; November, CASA, and December, the Sanctuary Mission.
Vick said of his staff, "They're amazing. They have the most generous spirit and a sincere love for this community.
Hunnicutt said: "Anything we can do to give back to the community is what we want to do.
It's simply a fun way to raise funds and a wonderful way to contribute while serving the public.
Phillips said: "Denim Days is about more than just wearing jeans. It's about supporting our community. When we hear stories about how the recipient plans to use these funds to improve the lives of folks, my heart is happy because together we make a difference."
Although Vick's staff wear jeans on Fridays and Vick supports the program, does she wear jeans in the office on Fridays?
"I don't know," she said. "I'm old school."