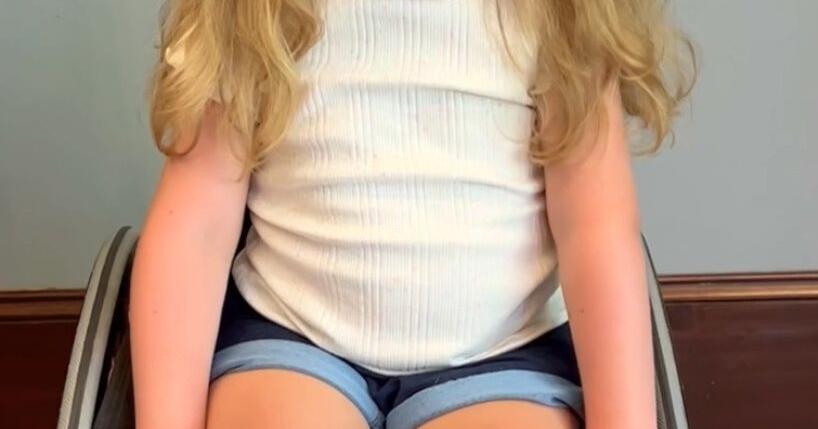 Foxboro girl models at New York Fashion Week | Local News
A 4-year-old from the area was recently in the spotlight at New York Fashion Week, where she walked down the catwalk to model some adaptive clothing.
Estelle Lemieux appeared as one of 60 models on "The Runway of Dreams," a one-of-a-kind adaptive fashion show aptly titled "A Fashion Revolution," presented by Kohl's. The seventh annual show took place on September 12 at The Glasshouse in New York City.
"It was such an eye-opening experience for her. She has never been exposed to so many people with all different types of disabilities/differences. I really think it helped her to understand and accept her disability/wheelchair said Amy Lemieux, Estelle's mother.
Estelle, the daughter of Amy and Douglas Lemieux, has spinal muscular atrophy type 2. She started showing symptoms around the age of 6 months, but was not diagnosed until the age of 16. months, because it took a long time to get the right diagnosis.
Lemieux said her daughter was blessed with all three FDA-approved treatments for the neuromuscular disease, including the world's most expensive drug called Zolgensma at a cost of $2.1 million for one treatment. She also takes daily medication and receives therapy to help build muscle and fight a disease that is historically progressive without treatment.
"This short getaway to New York was a big distraction for her, who was just a kid for a few days and took a break from her therapies. We were able to explore the city and walk to Times Square. Estelle liked the bustle and the bright lights. We went to the M&M store, the American Girl doll store, Disney and also Harry Potter. She had a blast, "says her mother.
The Runway of Dreams Foundation is a non-profit organization whose mission is inclusion, acceptance and opportunity in the fashion industry for people with disabilities. The evening featured adaptive clothing and footwear from top brands such as Kohl's, Target, Zappos.com, JCPenney, Tommy Hilfiger Adaptive, No Limbits and Stride Rite. Steve Madden launched his line of adaptive footwear, alongside brands French Toast Adaptive, Stemwear and Magnetic Me, which showcased products from their new adaptive collections.
Estelle rode the track three times and started crying when she realized the show was over. Since returning from their trip, Lemieux said her daughter has brought up different role models she's met and said, "That's how their bodies were made, and it's okay to be different."
Lemieux likes that Estelle is curious about others.
"She sees that God makes us all unique. This is what is so important and necessary in what Runway of Dreams does. The company needs more exposure. People with disabilities deserve to be seen in all spaces, including fashion and advertising. It's time to normalize disabilities," she said.
Lemieux tells his daughter that the world would be boring if everyone looked the same and she said Estelle was starting to see it too.
"She even says it herself now. She can do whatever she wants in life," Lemieux said. "We just have to do some things a little differently and that's fine. She has such a positive and bright spirit for such a young girl. We are so proud of her.
Estelle started her modeling career about a year ago. She is signed with Model Club in Boston and GAMUT Management in New York, which is a talent management company working with people with disabilities.
The fashion show wasn't Estelle's first modeling experience — she did shoots for Hasbro toys and was featured in a children's book called "Gary's Gigantic Dream" by Nicole Julia.
Follow her on her Facebook page "Estelles SMAmazing journey" or on Instagram @RaisingaRaregirl.