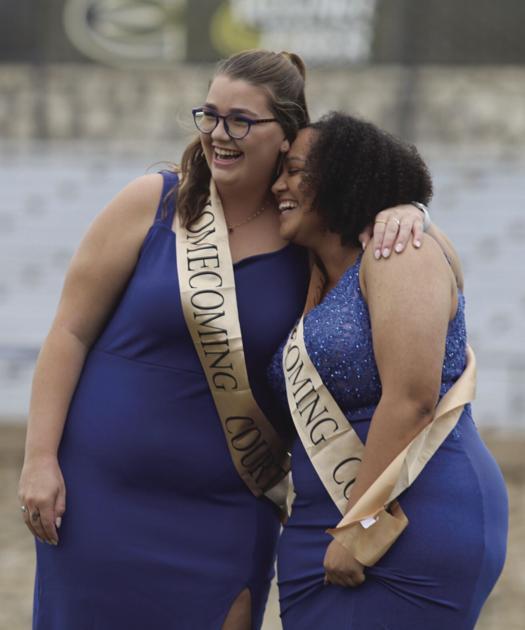 Homecoming royalty announced: Two Homecoming queens crowned | Hornet life
After a week of Homecoming festivities at Emporia State University, a school-wide nomination and voting process has come to an end, reducing the 10 nominees to the bottom two.
Elementary Education major Jalee Ortman and Political Science major Lucy Steyer were crowned members of the ESU Homecoming 2021 royalty during Saturday, Oct. 23's soccer game against Missouri Western.
"I was excited and nervous at the same time," Ortman said. "By the time it happened, honestly I couldn't believe it, I was just super happy and honored to be there in the first place."
The application process begins with RSOs on campus nominating 10% of their senior members. They had to have over 90 hours and a GPA 3.0 or higher to be nominated. A ballot was sent to the students on Wednesday October 20 and ended on Friday October 22 before the game on Saturday.
This year, the appointment requirements were entirely score-based, which is different from the past, according to Lendi Bland, an elementary, early childhood and special education teacher.
"This is the first year that there are not five men and five women. Bland said
Coming home is a time when hornets past, present and future can come together and participate in the festivities together, making it a community event.
"Every year I am always excited about Homecoming and seeing the alumni that I have had and the people I went to college with," said Bland.
The RSO in charge of returning home, SPURS, stands for service, patriotism, understanding, respect and sacrifice. The national organization itself is no longer active, as it was dissolved in 2006, according to Bland.
Therefore, Campus decided to make it a community organization.
The other 2021 court candidates were Kelsey Beary, major in nursing; Ashlynne Bowles, major in choral music education; McKenzi Crossman, major in secondary speech and theater education; Maddi Douglas, major in elementary education; Kaylee Gleason, pre-med, major in biochemistry and molecular biology; Allison Haeker, major in elementary education; Martina Miller, major in management; and Drew Villaca, major in music education.