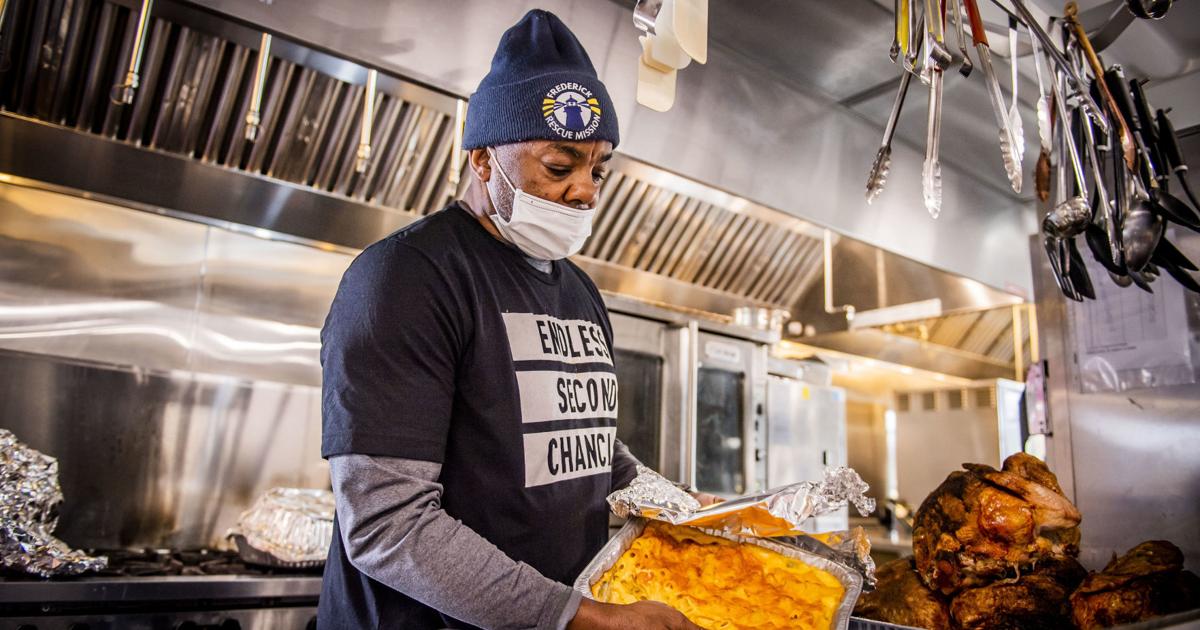 Serve the Blessings: Frederick's Rescue Mission Feeds the Hungry Thanksgiving | Way of life
As a young child growing up in Washington, DC, Carlton Hill couldn't wait to visit his aunt for Thanksgiving.
Thanks to his aunt's color television, a young Hill watched the parades, cartoons and professional football in all their excitement. It was a treat.
Today, Hill spends his Thanksgiving serving others at the Frederick Rescue Mission, a nonprofit that provides recovery programs for those struggling with homelessness, hunger and chemical addiction, and d other aid based on need.
Hill, director of the Rescue Mission's Changed Life Recovery program and co-director of the Bread of Life kitchen, got up early Thursday to help cook for those in need. When the doors opened at noon, about a dozen people waited outside, and more entered over the hours.
Volunteers put mashed potatoes, macaroni and cheese, stuffing, corn pudding, tons of vegetables, ham and more on platters. A row of sliced ​​pies filled a table and the soup was on the deck. Volunteers carrying silver trays full of mouthwatering food gathered around Hill as he stopped to explain operations.
The air smelled of gravy.
The kitchen team cooked around 40 turkeys with the expectation of 300 to 350 people, Hill said. Whatever was left at the end of the day would become leftovers or soups. Serving Thanksgiving meals is a long-standing tradition at the Rescue Mission, which also offers two meals a day, seven days a week outside of the holidays.
"It means a lot to me because I was once in the same position," Hill said.
By 2002, Hill was at a crossroads, he said, and had tried several rehabilitation programs. He came to the Frederick Rescue Mission, graduated from the recovery program he now leads, and graduated from college.
"Something inside clicked," said Hill, when he came to Frederick's rescue mission and found God.
Hill, clad in a shirt with the inscription "Endless Second Chances," offered a blessing on the food before the first generation of guests took to eating.
A resident of the shelter, who declined to give his full name, called out familiar faces and joked with the volunteers.
"I love this place here," he said.
Arnold Farlow, executive director of the Frederick Rescue Mission, said they consumed 2.8 million pounds of food last year. This year, they are on track to give 2.5 million. He says that when people come to their door, the rescue mission does not ask them to prove their level of poverty. They just help.
"Our goal is to change life now and to make someone change their life forever," said Farlow.
For some people, change can start with a hot meal and a kind face, something volunteer Tamiko Brownfield hoped to convey. She was unable to visit her family during this vacation, so she decided to volunteer her time to others.
"There are so many people in need," Brownfield said. "[I'm] just smiling, saying 'Happy Thanksgiving' … letting them know that people care. "
Volunteer Sarah McNeil and her fiancé Joseph Joannides came from Virginia to spend time with their family in Frederick and to volunteer with McNeil's mother, Lisa Thambi. McNeil lived in Frederick and served as a camp counselor for the rescue mission in the past.
"I just think everyone deserves to be taken care of," McNeil said. "Even though I don't know you, I still care about you.
Follow Mary Grace Keller on Twitter: @MaryGraceKeller